With so many different papers to choose from we try to give a little guidance to point you in the right direction.
We are often asked which paper is best for a particular project or job, and with so many different paper options it is not always easy to decide which paper suits a particular purpose better than another. Here we will try to give some guidance by describing the different papers we stock and where they might be used.
We hope this is useful, but recognise there is no substitute for actually seeing and feeling the papers on offer. We have split the papers into 7 categories: Copyshop papers, Litho papers, Matt inkjet papers, Photo inkjet papers, Canvas, Fine Art papers and Self-Adhesive media.
Please feel free to pop in to the shop to see the papers in the flesh.
Section 1 – Copyshop papers
We have a brand new laser printer in the shop which is predominantly used for printing order of service, flyers, posters and even artwork. The technology in laser printers sees toner being heated up by an image drum and then transferred onto paper via a fuser unit.
Laser printers are extremely quick, but the image quality is nowhere near the output we get from our inkjet printers. Most copy shop jobs are completed within 48 hours. If needed sooner, we provide an express delivery service to meet your deadline.
Plain paper – 80gsm
This is our 'bog standard' paper, used for most photocopying jobs on the laser printers. It's suitable for document printing, cheap posters / flyers and we also use it a lot to print plans for builders and architects on the wide format inkjet printers (normally at A1 size).
115gsm Silk paper
Slightly heavier than the plain paper, the premium copy paper is more opaque than the 80gsm alternative and is often used for flyers, posters, menu's. This paper is great for when the quality needs to be a bit better than the cheapest option but can still be produced quickly and at a low cost.
170gsm Silk paper
This paper is in-between relatively light paper and slightly heavier paper. This is often used for certificates and flyers.
OHP Projector Film
We can print on A4 OHP file, black and white only
Section 2 – Litho papers
All our business cards and flyers are litho printed if the quantity is 100+. The cost of setting up printing plates in lithographic printing means that it only becomes economical to use this method if the quantities are high, which is why the cost-per-print comes down hugely as the quantity you order goes up. Allow 4 working days for production.
Gloss paper – 150gsm
This is our go-to paper for the vast majority of flyers we produce, and the cost per copy really comes down once you order 500 or more
Gloss board – 280gsm
We use this for our A6 promo cards, very popular with bars and restaurants hoping to promote offers and raise awareness.
Silk board – 400gsm
The silk board is used for most of our business card orders (quantities over 100), with a choice of laminate for a more luxurious feel. Matt lamination is always recommended where there is full bleed up to the edge of the business card as you can sometimes experience 'chipping' on the edges of unlaminated business cards where white can show up.
Section 3 – matt inkjet papers
The quality of inkjet printing is unrivalled and the matt photo papers in our range offer an inexpensive way to achieve a fabulous finish. The print head inside an inkjet printer fires ink onto the paper as it passes from side to side. Allow 2-3 working days for production.
Matt proofing – 170gsm
Our lightest weight paper in the poster range, this is particularly popular for large posters (A1 / A0) where both quality and price are important.
Photo matt – 230gsm
Our most popular matt paper, great quality and value for money. Used by a lot of graphic designers who want a crisp finish for client pitches, also popular amongst photographers and artists who prefer a matt finish.
Banner material
We use this to print our roller banners, and sometimes people have smaller posters / banners printed on it. Bright white finish with a grey back.
Section 4 – photo inkjet papers
Our photo inkjet papers are output across all our inkjet printers. Extremely popular for photo prints from the public, professional photographers, artists and many more. Inkjet printing is more expensive than the laser or litho alternatives, but the quality is second-to-none. Allow 2-3 working days for production.
Lustre – 250gsm
Our most popular paper for photographic output. We print on lustre in a huge range of sizes from 6"x4" right up to A0, bespoke sizes are also welcome. A versatile paper that is often used for invites, posters, a-board signs as well as traditional photographs. We also print on this regularly before bonding to foam board.
Gloss – 270gsm
Gloss photo paper used to be the paper of choice for photographers everywhere, but over the years it has been replaced in top spot by the more subtle finish of lustre. Gloss photo paper is primarily used for photographic output.
Digital Contact Film
Transparent film that can be printed in full colour, used for backdrops and overlays at events.
Section 5 – canvas
Our inkjet canvas is premium grade and produces great results. We have our premium canvas that we use for most stretched canvases we produce, and the art canvas which we tend to use when the canvas is not to be stretched round wood. Allow 5-7 business working days for production.
Premium canvas
Cotton-based, fantastic image reproduction and longevity. Used for the majority of stretched canvases we produce.
Art canvas
Slightly heavier version than the premium canvas, with a hessian-style back.
Section 6 – fine art papers
Fine Art papers are often referred to as 'giclée' papers, which derives from the French word for squirt. The broad definition of a giclée print is a print that has been printed on an inkjet printer with pigment-based ink, on a paper that has a cotton / fibre base that is at least 270gsm in weight.
Allow 5-7 days working days for production. We stock a wide range of fine art papers from Fotospeed and Hahnemühle, pop into the shop to see them in the flesh, here is a brief summary:
Fotospeed Natural Soft Textured (NST) – 315gsm
Off-white, heavy weight with a slight texture. Our best-selling fine art paper which is particularly popular with artists. The heavy weight and rigidity of the paper means it is also used for greeting cards, short runs of business cards (under 100), wedding stationery (including invites and name places). The majority of the prints on this are limited edition fine art giclée prints for artists.
Fotospeed Natural Textured (NT) – 315gsm
Identical colour and weight to the NST, but with a rougher texture. Very popular with abstract artists, also often used for wedding invitations and postcards.
Fotospeed High White Smooth (HWS) – 315gsm
A smoother, whiter alternative to the other Fotospeed papers, very popular with portrait artists.
Fotospeed Platinum Baryta – 300gsm
The only Fotospeed fine art paper in our range with a semi-gloss finish. The paper is reminiscent of old darkroom papers and delivers superb results in black and white. Very popular with fine art photographers.
Hahnemühle German Etching – 310gsm
The unique grainy texture of this much-loved paper makes it a hit with artists
Hahnemühle Photo Rag – 308gsm
The most popular paper we stock from Hahnemühle, the Photo Rag is a versatile paper that lends itself well to fine art reproductions and photography.
Hahnemühle William Turner – 310gsm
With its matt watercolour texture this paper is a genuine mould-made paper in both look and feel, very popular with landscape artists.
Hahnemühle Fine Art Pearl – 285gsm
The only Hahnemühle paper with a semi-gloss finish, not unlike the Fotospeed Platinum Baryta, it's similar to darkroom papers of old.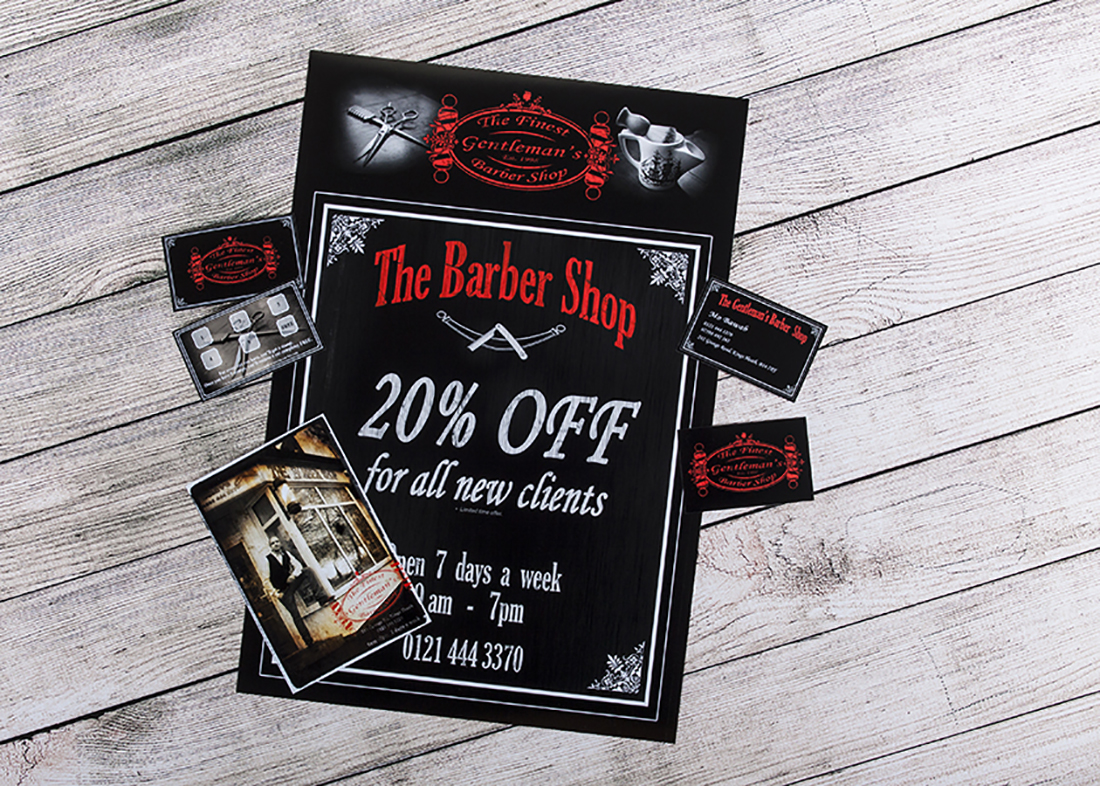 Section 7 – self-adhesive media
We have a range of self-adhesive media used for various applications. Some are printed through our laser printers, which mean they are cheaper to produce but the quality is not as good as the output from the self-adhesive media we print on the inkjet printers. Allow 2-3 working days for production.
Laser labels – various weights
We stock round labels in 37mm and 85mm diameter that can be printed through the colour laser copier. There are 35 stickers per A4 page for the 37mm labels, and 6 per page for the 85mm labels.
We also have A5 labels that can be printed on the colour copier, as well as 'crack-back' self adhesive paper in A4 sheets, which are great if you want small stickers in a non-standard size.
Self-adhesive vinyl
This bright white, matt finish vinyl is printed from a 36" wide roll, which means it is great for large or high-volume print runs. As a vinyl it is more weatherproof than most other media we stock, and will withstand the elements outside for at least a few months. We use this for the labels on the back of canvases / frames, and it is often used when more than 100 stickers are needed.
Wallpaper
Our wallpaper material has a fine lattice texture and is supplied on a release film. We normally supply the wallpaper in 42" wide 'drops', which can be fitted far easier than traditional wallpaper. It is repositionable so can be hung without too much expertise.